Best Boating Excursions from Split on board your Sea Ray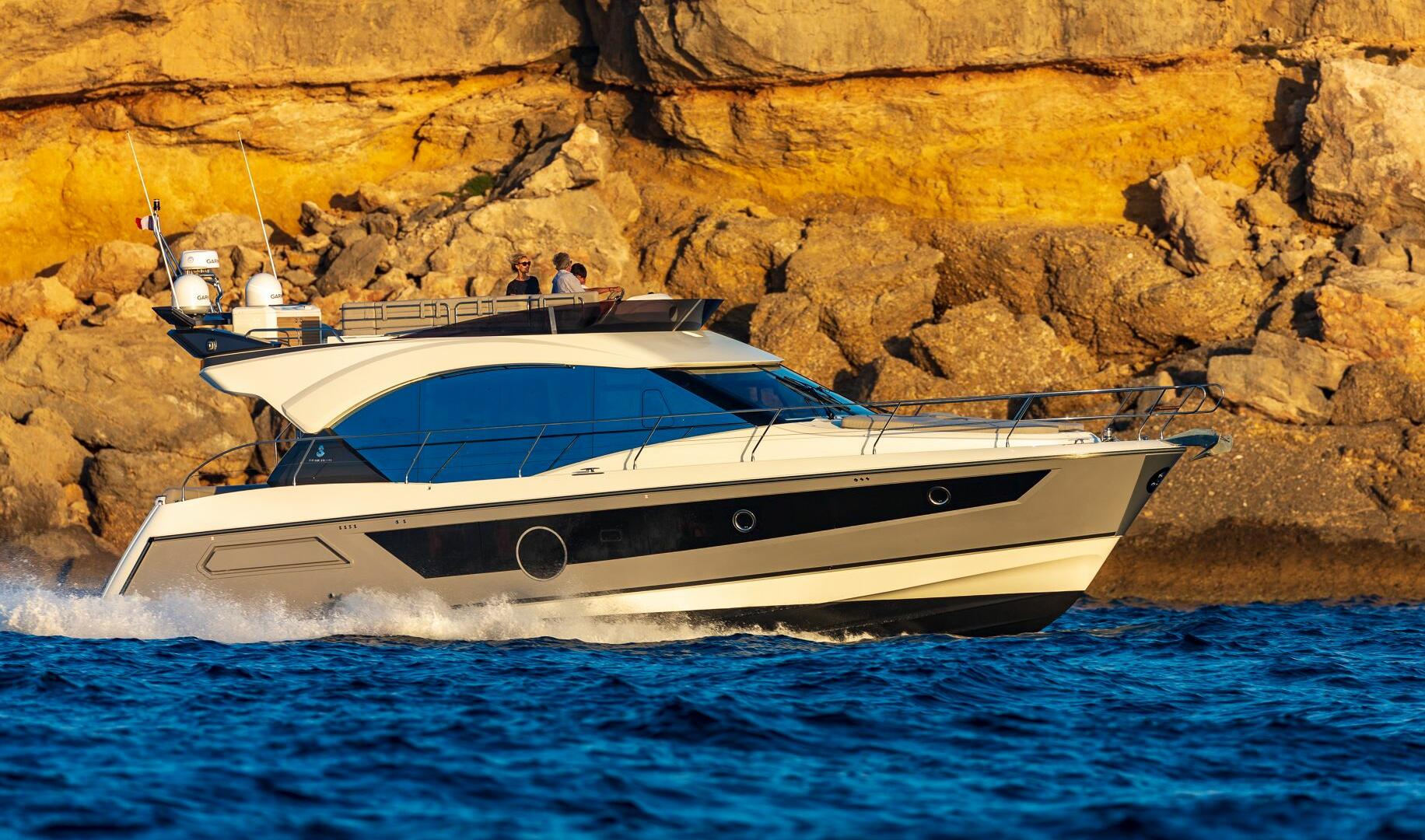 Sea Ray is a motorboat known for high quality. It's perfect if you want to get somewhere fast and avoid excess crowds and enjoy the locations to the maximum. We bring you a few suggestions on where to stear your Sea Ray towards. Here are some of the best boating excursions in the Split archipelago
Brac
One of the closest islands to Split is Brac at only 9 nM from Split. The average powerboat takes you to Brac in about 40 minutes, the ferry or sailboat takes 1 hour, but with an average Sea Ray model, it takes you around 15-20 minutes, since their average speed is between 20 and 30 knots. Some of the best areas you would want to stop by on Brac are:
Bol
The Golden Horn (Zlatni Rat) beach is one of the most beautiful beaches in Croatia. Smooth pebbles constantly change the shape of the beach because of winds, waves and currents. It is interesting that it is also "growing" year by year.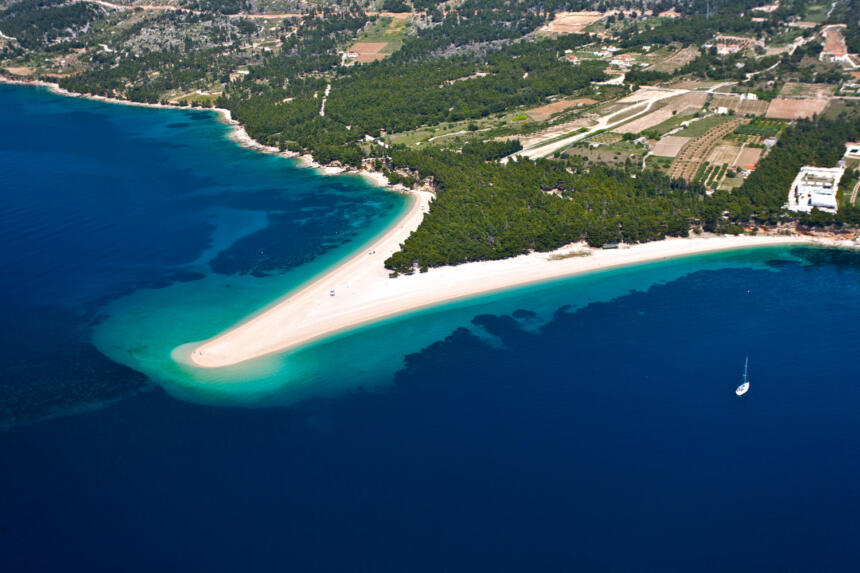 What to do in Zlatni Rat? Good question! Zlatni Rat is well known for great winds and an extremely popular windsurfing and kitesurfing destination.
There are also many other activities such as: beach volleyball, excellent tennis courts etc. While in Zlatni Rat, make sure to visit the ancient Roman Villa Rustica, hidden in the pine trees close by the beach.
Zlatni Rat is proud to have a "Blue Flag" as a confirmation of very clean waters and beach.
Blaca desert
For those that prefer hiking the Blaca desert stretches over fifty six acres. It's called "Blaca Desert" because this used to be the term for hermits' habitats. The Blaca Desert is a monastery with a museum, vast library and astronomical observatory with a large telescope! If you are into space topics and hiking, it is definitely worth visiting.
Drop your anchor in Popova Vala (Priest's Cove) and additional lines to the land might come in handy as well and hike away. We recommend putting on hiking boots or at least better quality shoes, as well as bringing plenty of fluids with you. The hike is approximately 45 minutes.
Pucisca
It is a relatively small town. It's the home of the famous stone masonry school with a century long tradition of educating and training of top stone masons.
Around 170 acres of vineyards are the property of the famous Stina Vina winery in Bol. The rocks (Stina) are crushed for the cultivation of vineyards. These vineyards are some of the highest ones and the ones with the biggest inclinations (up to 70%) in Dalmatia. Maybe this is why the wine tastes fantastic. If you visit Brac, you definitely won't regret tasting it.
In case you need to refuel your boat before you head back – Milna (on the western part of Brac in a deep bay), Sumartin (on the eastern part of Brac) or even Bol (on the southern side) are all great since they are far less crowded than the fueling station in Split.
Solta
Solta is just slightly closer to Split than the island of Brac at a distance of just over 8 nautical miles. Start your Sea Ray motorboat and you'll be there in 15 to 20 minutes. It takes the ferry from Split to reach Rogac roughly 1 hour, so you'll be very happy to have your Sea Ray!
Maslinica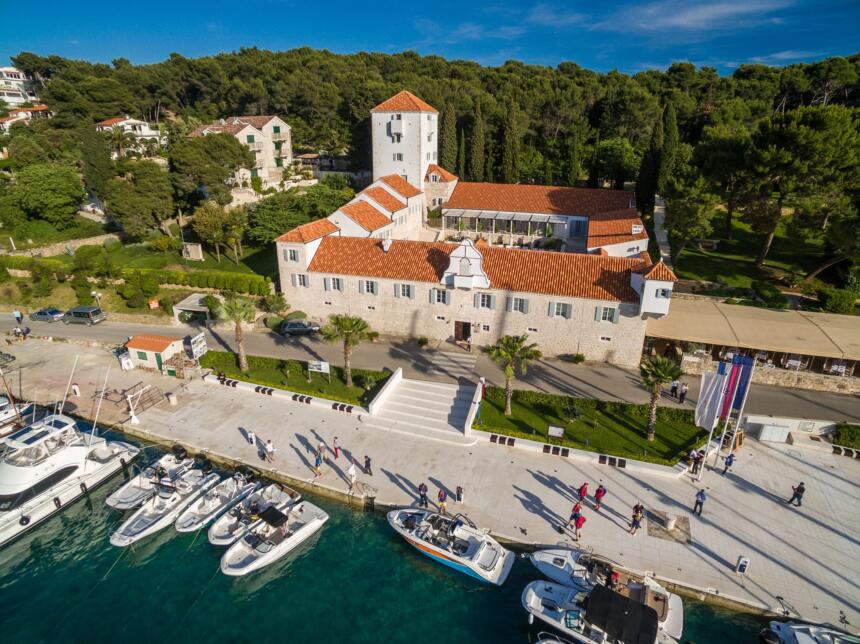 It's located on the western end of Solta, Maslinica is full of rocky beaches, and beautiful pine woods. A Castle from the 18th century was built by the Marchi brothers, who were granted permission to build it as a means of protection from pirate attacks. It now houses a deluxe small boutique hotel with a pool and restaurant and a modern marina. The sunset in Maslinica is especially stunning because of 7 small islands that stretch as a crown just in front of the village.
The marina offers daily moorings (until 14:00) at approximately 7 € (50 HRK) or stay in the beautiful marina or even in one of the luxurious rooms overnight.
Sesula Bay
It's one of the most peaceful and relaxing areas to go to when you are tired of your everyday life. It's a very popular area for yachtsmen as it is deep enough to protect you from almost all winds.
You can use the buoys set by Sismis Bar or even just drop your anchor during fine weather. We recommend the northeastern end of the cove where the depth is 7 m and the bottom is muddy and covered in seaweed.
The Blue Lagoon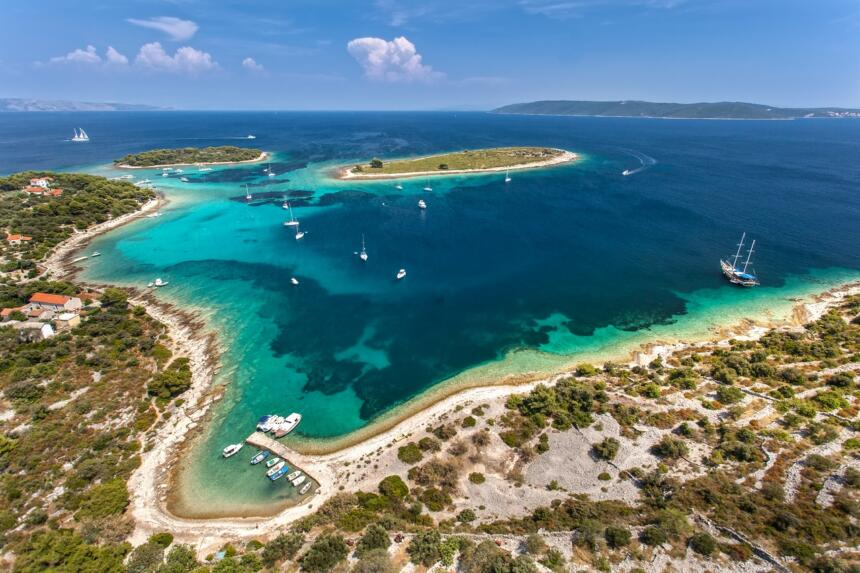 While you're close you can make a bonus visit to the famous Blue Lagoon in the Krknjasi bay, on the island Drvenik Veli – it's only 4 nM. The Blue Lagoon features mesmerizing crystal clear blue waters, with a sandy bottom and a paradise-like look!
If you get a chance, make sure to taste some Dobricic, wine that is rumored to be Zinfandel's ancestor. Buy some local honey, carob, figs or olive oil.
Refuel in Rogac before you head back.
Hvar
Hvar is roughly 26 nM away from Split. Average motorboats take over one hour to reach this island. Your average Sea Ray powerboat reaches it in a maximum of 45 minutes.
The town Hvar
The riva (waterfront) in Hvar is a chic and favorite place for a relaxing walk and sitting down with friends, or family members and sipping some coffee as you enjoy the calming view. Take a guided tour to explore the history and architecture of the town or just stroll around town – cathedral, monasteries, the oldest public plebeian theater… If you're feeling especially adventurous, climb the Fortica to enjoy a stunning view of the harbor and the archipelago! For party-lovers Hvar is the IT-place – bars, night clubs, beach bars – take your pick. We don't recommend staying overnight in the port of Hvar as it is very busy, crowded and noisy.
Paklinski islands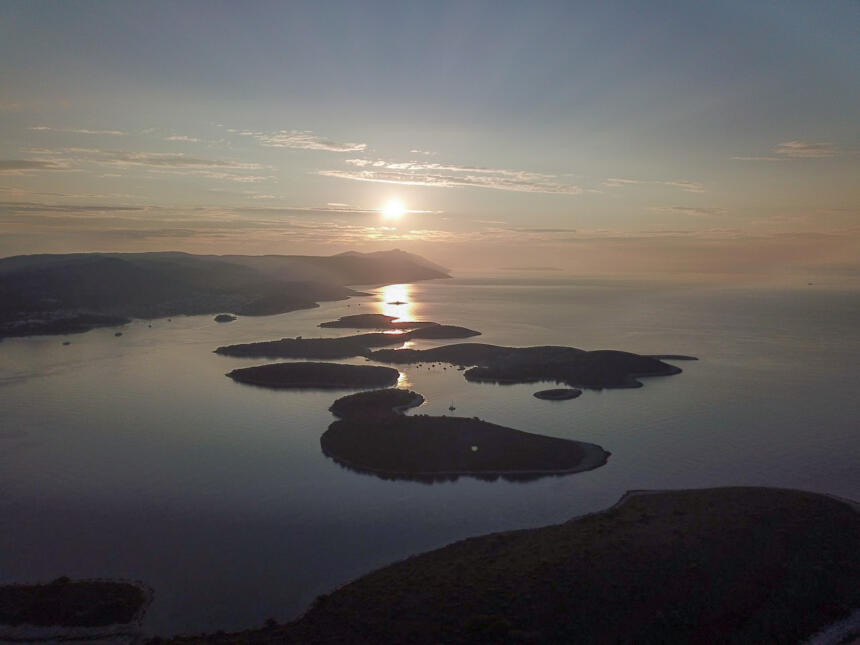 The archipelago is just opposite the town of Hvar are a boater's paradise. Get lost in beautiful coves, beaches or charming restaurants and bars. Vinogradisce bay is one of the most popular anchorages with plenty of buoys, a beautiful sunset and excellent restaurants. If you find it overcrowded there's the option of the ACI marina Palmizana just across the island or several other coves (just keep in mind the weather conditions when choosing your cove).
Stari Grad
If you're a true history geek head over to Stari Grad. It is one of Croatia's oldest towns, it was built by the ancient Greeks in the 4th century BC. The old town is far less crowded and noisy than the town of Hvar. Explore the stone squares and houses, Tvrdalj – small fortress built by the Hektorovic family or even the Stari Grad Plain – the UNESCO World Heritage site with agricultural borders made of drywall in the Greek times and sustained until this day.
The port is very cozy and pretty quiet in comparison with the port of Hvar, so it's a perfect location for spending the night. If you prefer even more private experience we recommend Tiha cove.
Plavac Mali is one of the most common red grapes in Croatia. It is often mentioned as the best wine from Croatia. Many wine experts still debate on its origins but the taste is usually unanimously voted as superb. We suggest either the Tomic winery in Jelsa or the Zlatan Otok in Sveta Nedjelja or so many other small, cozy wineries.
Refuel either in Hvar or in Vrboska.
Vis
Vis is about 30 nM away from Split and it takes the ferry almost 2 and half hours to reach it. Your Sea Ray gets there in roughly 1 hour.
When on Vis there's so much to discover:
The very popular Blue Cave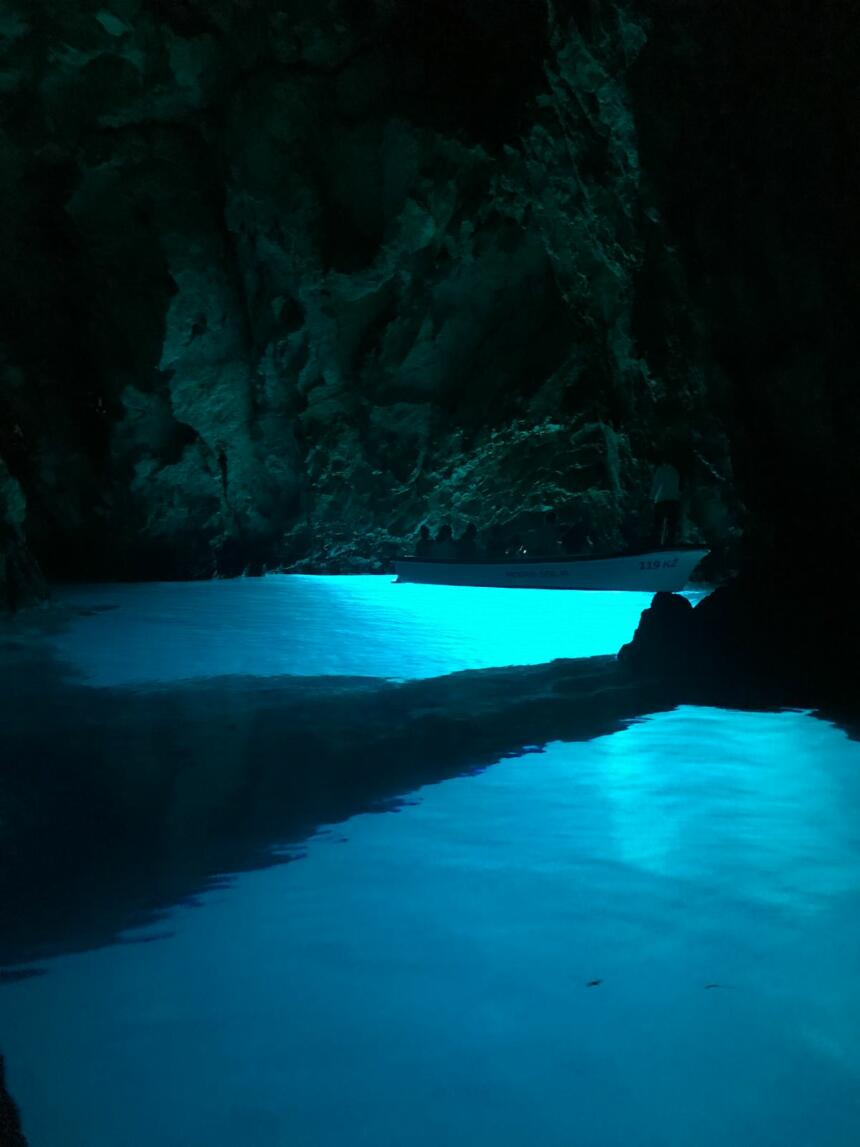 It's actually on the island of Bisevo. This means that traveling with your Sea Ray is more than handy once you reach Vis. The best time to visit is at noon when the sunrays make the perfect light show through an opening underwater. Avoid this time in high season because it is extremely crowded. Your Sea Ray will only get you as far as Porat on Bisevo. There you need to buy tickets and wait to use the organized small boats provided by Komiza nautical center.
The Stiniva beach
The beach is made of large pebbles. It contrasts perfectly with the blue and green waters and the high cliffs surrounding it. In high season we recommend being there early and avoiding all the boat excursionists.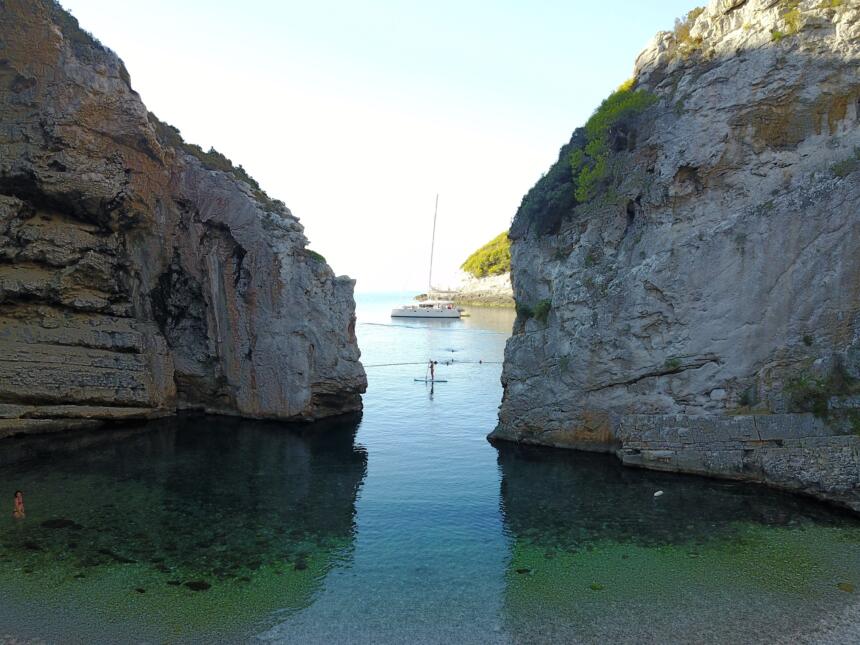 The Green Cave
It has an opening in the cave ceiling so the reflections inside are green. It's a great place to take your selfies and family photos since it is way less crowded than the Blue Cave. Swimming is still allowed in and around the cave. The cliffs outside are very popular for jumping.
Srebrna beach, Stoncica bay, beach and lighthouse, the Blue Lagoon on Budikovac island, etc. you'll just have to keep coming back to Vis because the list goes on and on!
If you want to prolong your stay for another day we recommend the ports of Vis or Komiza or the bay of Stoncica. The Stoncica bay is well-protected from all winds except from bura (the usually very strong and unpleasant cold northeasterly wind). Refueling is only possible in Vis.
Your Sea Ray is just the perfect ride on these islands. It is safe, seaworthy, fast, well-equipped and reliable and let's not forget extremely stylish. You just need to supply it with all the little things necessary en route such as:
Have fun exploring some of Croatia's most beautiful islands with your Sea Ray powerboat!