Best boating gadgets for bringing on board your Sea Ray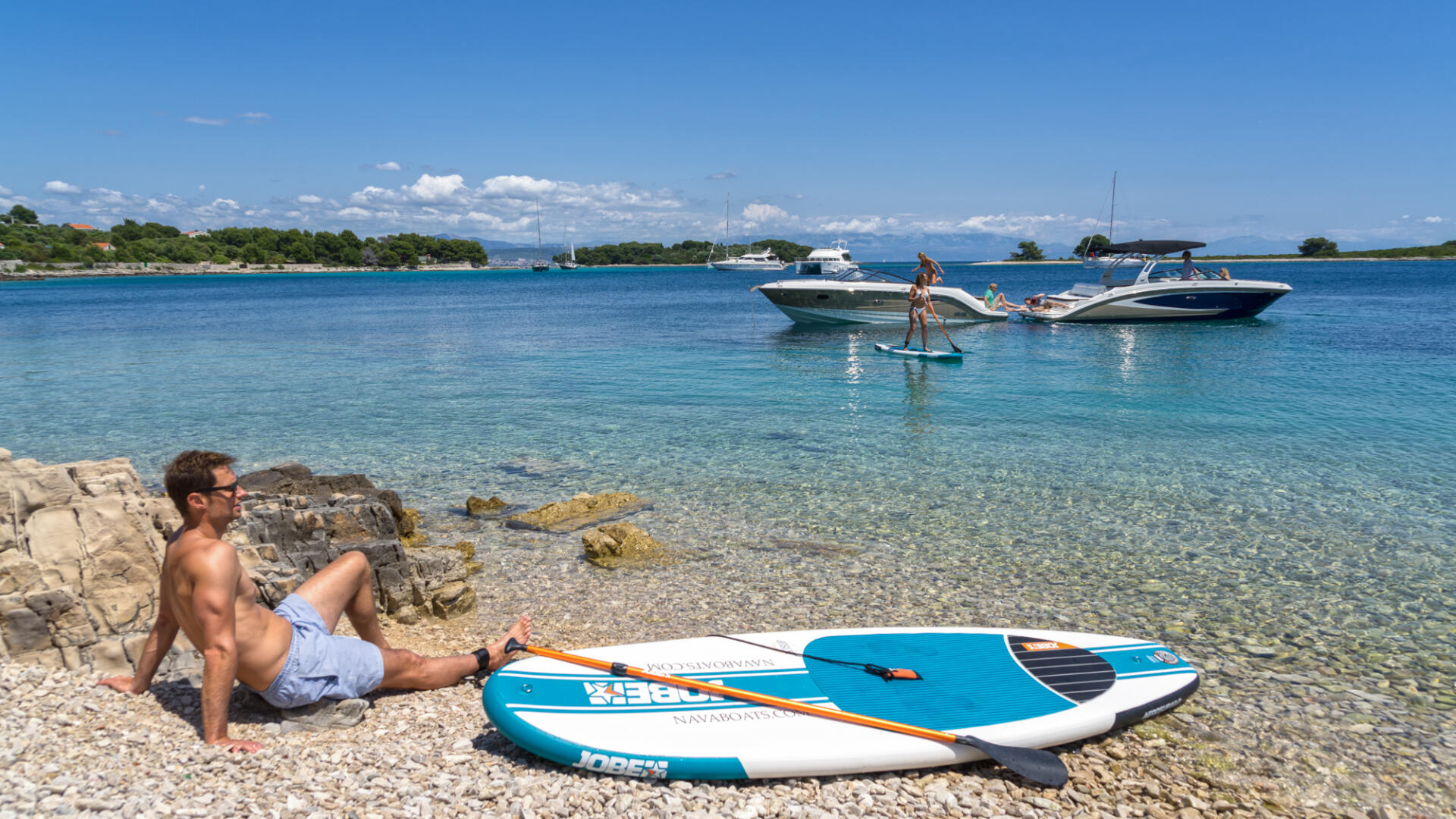 Going on a ride on a Sea Ray boat is all about fun and enjoying your time on board. All Sea Rays are ready to take you and your family and friends for an adventure, rather than just for a day or multi-day cruise. The fun is pretty much guaranteed, however, there are some nice boating gadgets that help to make the best out of your time on board of your Sea Ray.

For this task, Nautika centar Nava, as a trustworthy Sea Ray distributor in Croatia and the Adriatic Sea, helps you find the answer to the question – "What are the best boating gadgets to have with me on my Sea Ray?" Here are our top choices!

Waterproof everything
Being in a wet environment, a.k.a the sea, comes with its joys and its challenges. One of them is the risk of damaging something by getting it wet. So our first tip for the best boating gadget on your Sea Ray boat is not a specific device, per se, but is to actually make sure you have everything waterproofed. Here are some cool ideas to start waterproofing all you can:
#1 Taking Pictures
Today, waterproofed cameras such as GoPros or other action cameras are quite common. Some phones might even be IP67 and IP68 certified, which means they can actually be used as underwater cameras, just pay attention to the specifications of the manufacturer. There is even the possibility to buy some specific cases for your regular camera or DSLRs. Having a camera that switches from the sunpad of your Sea Ray to the blue waters of the Adriatic Sea comes in super handy on your next Sea Ray escapade in Croatia.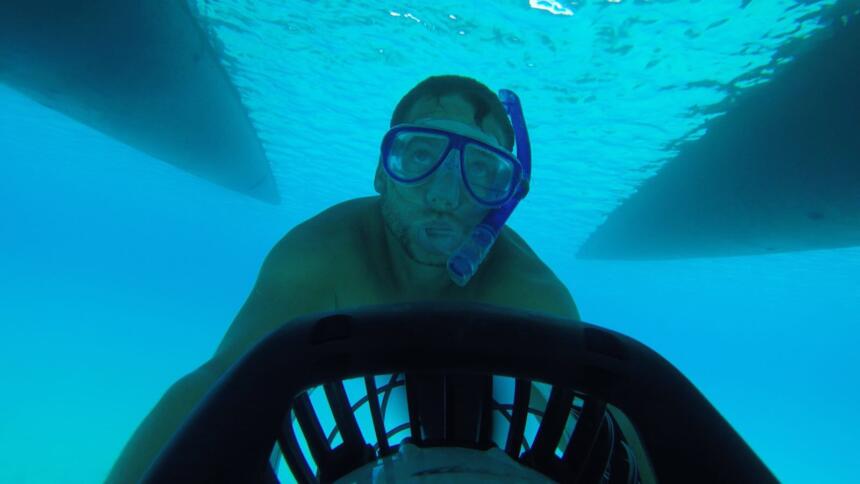 #2 Writing and Reading
This tip is made for those that love to travel even with just a book, and trust us, there is nothing like relaxing on the sun deck of a Sea Ray. However, today there are some possibilities to extend the reading and writing to a less dryer environment. Some e-readers and notepads already come with its waterproof certification and are ready to be enjoyed wherever you want.
#3 Turn the Music On!
We know how it feels when we are getting on board our Sea Ray and we just can't help thinking of how lucky we are, because we want to celebrate and enjoy this time on board to the fullest. Regardless of Sea Ray's amazing sound system, sometimes you are simply not on board. It is precisely in such moments that perfect music could make them all the more memorable. When partying or just relaxing on the water and on the beach, bringing with you some waterproof speakers adds the perfect soundtrack to the perfect experience.
Use the solar power
The next category of the best boating gadgets to bring on board your Sea Ray motorboat uses advanced technology – solar panels. Take advantage of sunny days in Croatia. Get a tan and enjoy the paradisiac islands, but not just that… All this sunlight in Croatia is an amazing source of energy and enables you to stay plugged in longer!
#1 Use the daylight for some night light
Anchoring in secluded bays is great for the perfect view of the stars. Still, we all need some light in the dark. Get small solar lamps. They are easy to carry and charge at zero cost. Some models even come as waterproof and inflatable and are great accessories for a day onboard your Sea Ray.
#2 Power Up
Another great way to use the sunlight to your benefit are solar power banks. They are great for charging all your devices during a field trip. When you're exploring one of the 1000 islands in Croatia, chances are you will want to take some amazing pictures. However, your phone might run out of battery in the middle of this adventure. With a solar panel power bank you don't have to worry about that. Take advantage of the sun and power all your devices for free. A solar power bank definitely comes in handy.
#3 Become a Pro
If you are looking to take the solar panel game to a professional level, then we have good news for you. By installing solar panels you'll be able to use the daylight to brighten up your night while preparing a meal on board, playing some music, checking the weather forecast on channel 67 or designing your route for tomorrow. Get in touch with our team and we will let you know what is the best solution for you and your boat.
Let everything float
Our final group of best boating gadgets for making your escapade in Croatia way easier is to just let everything float. When we get started on our Sea Ray we above all just want to relax and enjoy the beautiful waters around us. So why don't you just get in the water with some floatable gadgets? They are easy to set, fun to use and can be stored on board your Sea Ray, in some of the numerous and practical storage spaces, where they won't take up much space.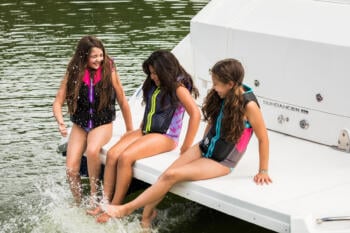 #1 Floatable Chairs
Enjoy all the fun on board your Sea Ray with easy and fun inflatable chairs, that come in every shape and size. Choose the one you like the most and just jump in the water. Relax and unwind with your family and/or friends while sipping a cold beverage.

#2 Floaties for Safety
Let's be honest, there is no fun when you worry about safety. Just take advantage of the arm floaties. They are also easy to set up and ready for use in no time. This tip is also suitable for adults that are just learning how to swim and want to be extra careful about their water time.

#3 Better to be Safe than Sorry
Sometimes, the adventures get so exciting on a Sea Ray that it is easy to get distracted. Our final tip on the must-have gadgets on board of your Sea Ray boat will make sure you won't forget any object in the sea. We are talking about floatable strips that can be attached to any object you want. From action cameras to glasses, having a floatable strip with you guarantees a stress-free time in the water.

The Final Say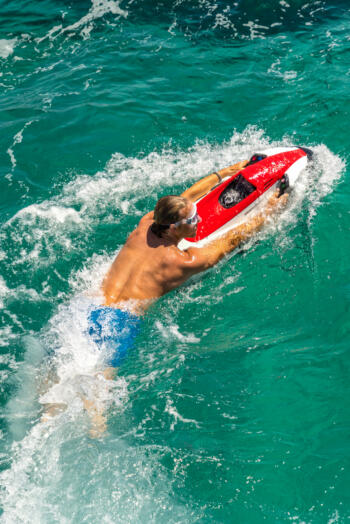 Water toys add to the fun on and off board, so we recommend adding a SUP board (since it's inflatable it won't take much space) or even a sea bob for the extra adventurous Sea Ray fans. Explore the underwater and enjoy the crystal clear sea. Feel free to share your photos with us.
The list of best boating gadgets that will make your life easier and much more fun on board of your Sea Ray could go on. We hope you will enjoy your time and that we gave you some ideas on how to make your water excursions even more fun, safe and practical. Nautika centar Nava is keen on the environmental issues so we encourage you to use the solar panels mentioned above. It's a win-win situation.The world and your pocket will thank you because you will reduce harmful emissions to the globe and your investment will be profitable in the mid term.
However, the gadgets can only do so much for making your cruise experience in Croatia unforgettable. What makes it memorable is the right boat. Read our previous blog on how to choose the best Sea Ray or contact our sales department and ask for help in finding the perfect boat for your needs.